Preventing Back Injuries in Young Students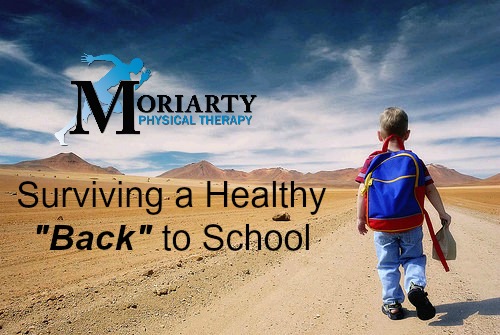 With the summer coming to a close and the first day of school approaching fast, Jackie's parents are preparing her for the upcoming school season.  Her parents find themselves with a school supply list with dozens of materials required for the school year.  Where do all these supplies go for little Jackie on the first day of school?  You guessed it… her backpack.  Walking hunched over under the heavy load of supplies, Jackie is prepared for the school year… but her spine isn't!Most children, similar to Jackie, use thier backpack incorrectly, predisposing them to spinal injuries.  The weight of a filled backpack carried by elementary school children can range from 20 to 30 pounds!  This is sometimes over 1/3 of the child's body weight!  
This heavy load, coupled with the improper use of  the backpack (either using one shoulder strap or carrying the bag low on the trunk) can cause increase stress to the neck, low back, and even the shoulders. Listed below are some guidelines to help  get your children back to school safely when using a backpack:    
Choose the right backpack
Choose a backpack with wide, padded shoulder straps and a padded back. This will decrease stress on the shoulders and lower back.
Use both shoulder straps
Slinging a backpack over one shoulder can strain muscles, and alter the alignment of the neck and back. Thumbs up school
Pack your child's backpack light
Organize the backpack to use all of its compartments. Pack heavier items closest to the center of the back. The backpack should never weigh more than 10 to 20 percent of your child's body weight.
Consider a rolling backpack
This type of backpack may be a good choice for students who must carry heavier loads. (Remember that rolling backpacks still must be carried up the stairs, and they may be difficult to roll in the snow.)
Use a locker

If your child has a locker, encourage him/her to drop items off for the day so they aren't forced to carry around extra weight.
Use your arms
They can carry some light books and materials in their arms without over-stuffing the backpack.
Moriarty Physical Therapy offers Free Spinal Screenings for children going back to school. Contact Moriarty Physical Therapy to schedule a free screening to evaluate you child and keep them safe for the new school year!