Morrisville Pelvic Pain Treatment for Women and Men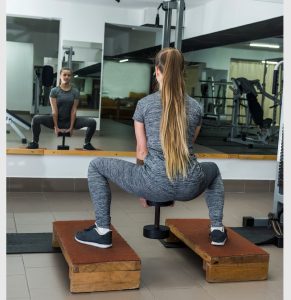 Pelvic floor muscles regulate your bladder. They support the bladder, bowel, and uterus (in women). Pelvic floor pain can lead to problems in the bathroom and outside of it. Maybe your pelvic floor is weakened, causing incontinence or difficulty going to the bathroom. Whatever your issue is with painful pelvic floor muscles, remember there is a solution.
If you live in Morrisville, contact us to inquire about the pelvic floor treatment. We've been providing expert therapy for patients in Morrisville, NC, since 1974. Find the treatment for your pelvic floor by contacting Moriarty Physical Therapy in Morrisville, NC!
Need a solution for pelvic floor pain and related issues? Contact us today. 
Pelvic Floor Therapy During Pregnancy
When a woman is pregnant, the pelvic floor muscles work more than usual because they now support the woman's bladder and the infant's weight. The hormones associated with pregnancy make the pelvic floor muscles more supple regardless of the birth you decide to have (vaginal or caesarian).
If pelvic floor therapy is not done before or after the birth, muscles could be damaged following delivery, which is why pelvic floor therapy is needed. The treatment we offer helps prepare your pelvic floor muscles for pregnancy and will assist women who are already pregnant. Women's recovery after childbirth is faster with pelvic floor therapy.
Symptoms 
If you notice any of the following symptoms, it could be a sign that you should come in for pelvic floor therapy:
Pelvic pain

Pelvic weakness

Urinary incontinence

Bowel incontinence

Pain during sexual intercourse

Painful or difficult urination

Pain or difficulty passing stool

Lower back pain
The symptoms can vary, but should any of these appear to be an issue for you, it could be time to start pelvic floor therapy. There, you'll be assisted in strengthening your muscles through PT.
What to Expect During Pelvic Floor PT
We'll target your discomfort and weakness during pelvic floor physical therapy (PT). To accomplish this, we'll do exercises to improve and stabilize your core. Your core comprises your pelvic, abdominal diaphragm, and back muscles. In addition, we'll identify tight or weak muscles and stretch them to increase coordination.
There's no single method that will treat every pregnant woman. The PT will be tailored to address the issues and pain you've experienced.
Pelvic Floor Physical Therapy Exercise During Pregnancy
The exercises we do during PT will help strengthen your pelvic floor, stretch it, and establish a mind-muscle bond to assist you with contractions. The activities will be performed while keeping your baby in mind. Our physical therapists will help you if you experience any pain or stress. Here are a few exercises we perform for pelvic floor therapy.
Kegels

Squats

Bird Dogs

Bridges
Need a solution for pelvic floor pain and related issues during pregnancy? Contact us today. 
Pelvic Floor Therapy for Women
Women, whether pregnant or not, may require pelvic floor therapy. You may have pelvic floor issues that cause discomfort or tightness. Moriarty is the best place to address your pelvic floor disorder. We have been helping women like you strengthen their pelvic floor muscles since 1974. The pelvic floor treatment before pregnancy helps recover after giving birth and may reduce the symptoms of pelvic floor issues.
Conditions
Do you believe that you may suffer from pelvic floor disorder? Visit our office for a diagnosis. The following conditions may lead to pelvic floor disorder:
Pregnancy

Obesity

Menopause

Genetic predisposition
If you're experiencing one of the conditions listed above, it could be time to undergo pelvic floor therapy. Each of these conditions could result in pelvic floor dysfunction that can impact the quality of your life.
Symptoms 
The symptoms associated with pelvic floor dysfunction manifest in a variety of ways. Specific symptoms are more noticeable than others. They consist of the following:
Pelvic pain

Pelvic weakness

Urinary incontinence

Bowel incontinence

Feeling the urge to pee often

Hard time emptying your bladder

Pain from sex

Vaginal stenosis
These signs indicate that you might be suffering from a pelvic floor disorder. Instead of suffering in silence, contact Moriarty for pelvic floor physical therapy near Morrisville.
What to Expect During Pelvic Floor PT
You might be nervous regarding your first pelvic floor appointment. It's okay; we'll assure you there's nothing to worry about. On your first visit, our expert team will examine you to develop a plan to strengthen and heal your pelvic floor muscles.
By examining your breathing, posture, back flexibility, and abdominal and hip muscles, we'll determine the root of your problem. This session is also ideal for discussing any questions with our physical therapist.
Pelvic Floor Physical Therapy Exercises for Women
Pelvic floor exercises can be performed at home. Here are a few exercises that we practice that you can perform at home without weights:
Kegels

Squats

Bird Dogs

Bridges
You will notice results from these exercises in about 4 to 6 weeks. We'd still suggest coming to our clinic since our physical therapists possess a long experience in helping patients who suffer from pelvic floor dysfunction.
Need a solution for pelvic floor pain and related issues? Contact us today.
Pelvic Floor Therapy for Men
While it may seem evident that men also have pelvic floor muscles, these muscles are frequently ignored. In men, the pelvic floor bears the same responsibility for holding the bladder in place; however, it can also affect the men's erections.
Conditions
Many conditions can cause pelvic floor disorder. The most frequent problem is age. As men age, their pelvic floor muscles weaken, which can cause erectile dysfunction and incontinence. Obesity can cause pelvic floor disorder with weight overload.
There are numerous reasons why a man could have pelvic floor problems. Here are some medical conditions that are related to the pelvic floor:
Prostatitis

Levator Ani Syndrome

Pudendal Neuralgia

Chronic Pelvic Pain Syndrome
Symptoms 
Sometimes, people have difficulty recognizing an issue until their physical therapists identify it. We've seen this with many patients. So to help you with self-assessment, here are some male pelvic floor disorder symptoms:
Pelvic pain

Pelvic weakness

Feeling the urge to pee constantly

Pain while urinating

Urinary Incontinence

Bowel Incontinence

Erectile Dysfunction
It's good to know what to look out for but don't rely on this to diagnose yourself. Our doctors are experts in diagnosing pelvic floor dysfunction, weakness, or any other disorder. Visit Moriarty for pelvic physical therapy. Contact us to make an appointment.
What to Expect During Pelvic Floor PT
Pelvic floor therapy for men is similar to women's PT. First, our doctors will assess you with questions regarding your pain or discomfort. Based on the information you provide and the assessment results, we'll develop a specific program to repair the muscles in your pelvic floor. Every patient has unique requirements, so every treatment plan is customized to address your issues.
Helpful Exercises for Men
We will rehabilitate your pelvic floor by doing exercises and stretching. We aim to strengthen your pelvic floor muscles and the muscles surrounding them. Here are some activities that we suggest our male patients practice: 
Single knee fallouts

Double knee fallouts

Bridges

Kneeling hip drive

Low lunge
Are you a man who needs a solution for pelvic floor pain and related issues? Contact us today. 
Contact Moriarty Physical Therapy
If you're a man or woman, or a pregnant woman, you'll likely get the benefits of pelvic floor therapy at Moriarty near Morrisville, North Carolina. You don't need a doctor's recommendation to receive treatment, and we accept all insurances that cover Blue Cross/Blue Shield, Medicare, and Medicaid. 
Contact us today to learn more about physical therapy and how we can help you.
2310 Bale St., Suite 100
Raleigh, NC 27608
Get Directions
Phone: 919-364-4000
Fax: 919-746-9229
HOURS
Mon – Thurs 8:00 am – 7:30 pm
Fri 8:00 am – 5:30 pm
"*" indicates required fields