Durham Pelvic Floor Pain Treatment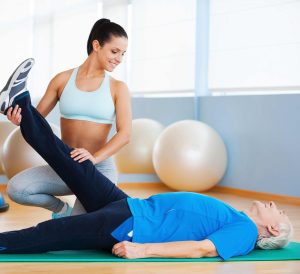 Pelvic floor muscles help you manage your bladder by supporting the bladder, bowel, and uterus (in females). When these muscles become weakened, or it is difficult to access the bathroom, this could indicate an underlying issue with incontinence or difficulty getting to the bathroom. If this sounds familiar to you, know there is a solution!
If you live in Durham, contact us for pelvic floor therapies. Since 1974, we've been helping patients like you find relief from pelvic pain and discomfort. Get the assistance that you need by reaching out to Moriarty Physical Therapy today!
Pelvic Floor Therapy in Pregnancy
While pregnant, a woman's pelvic floor muscles must work harder than usual to support her bladder plus an infant. Hormones associated with pregnancy weaken these muscles, making them vulnerable regardless of which delivery method she chooses (vaginal or caesarian).
Women should receive pelvic floor therapy before or after giving birth to strengthen the muscles that may become injured from the weight of a newborn. Our treatments help strengthen these muscles in preparation for delivery and for those already expecting; thus, recovery times for mothers after childbirth will be quicker.
Signs and Symptoms
If you experience any of the following symptoms, it could indicate that you should seek treatment for pelvic floor therapy.
Pelvic pain

Pelvic weakness

Urinary incontinence

Bowel incontinence

Pain during sexual intercourse

Painful or difficult urination

Pain or difficulty passing stool

Lower back pain
Women experience different signs and symptoms when these issues arise, so if any of these apply to you, it could be time for pelvic floor therapy. With this form of physical therapy (PT), you'll gain muscle strength that would otherwise go undetected.
What can you expect during Pregnant Women Pelvic Floor PT?
During pelvic floor PT, we will address the weakness and pain you experience as part of our pelvic floor rehabilitation. To do this, we'll instruct you on exercises that build and strengthen your core muscles – which include the abdominal, diaphragm, back, and pelvic muscles – and loosen up tight ones to increase coordination with these same muscles.
No single solution applies to all women. Your physical therapist (PT) will customize their approach based on your unique discomfort and issues.
Pelvic Floor Exercises During Pregnancy
Our Physical Therapy (PT) will strengthen and stretch your pelvic floor to build a mind-muscle connection, which will be helpful during contractions. Each exercise should be done with your baby's mind in mind; if there are any stresses or discomfort during your visit to our clinic, our physical therapists are ready to help. Here are some exercises we offer for treating pelvic floor issues:
Kegels

Squats

Bird Dogs

Bridges
Pelvic Floor Therapy for Women
Regardless of whether they are pregnant, women might benefit from exercising their pelvis. If you experience weakness, pain, or tightness in your pelvic floor muscles due to pelvic floor issues, Moriarty has been helping women address this problem since 1974. Building the muscles of one's pelvic floor before pregnancy helps improve recovery after delivery and may solve most issues associated with it as well.
Conditions
Unsure if you have a pelvic floor disorder? Unfortunately, we can't diagnose you online; therefore, we recommend visiting for an evaluation. If any of the conditions listed apply to you, this might increase the chance of experiencing pelvic floor discomfort:
Pregnancy

Obesity

Menopause

Genetic Predisposition
If you are struggling with any of the conditions mentioned above, it may be time to address your pelvic floor needs for treatment. These issues can cause pain, weakness, and other symptoms that lead to poor quality of life.
Signs of Pelvic Floor Dysfunction in Women
Pelvic floor pain or dysfunction can manifest in various ways. Some signs are more prominent than others.
Pelvic pain

Pelvic weakness

Urinary incontinence

Bowel incontinence

Feeling the urge to pee often

Hard time emptying your bladder

Pain from sex

Vaginal stenosis
These symptoms could indicate that you have an issue with your pelvic floor. Instead of living with the discomfort, contact Moriarty Physical Therapy near Durham for comprehensive pelvic physical therapy services.
What to Expect During Pelvic Floor PT for Women
You may feel nervous before your first pelvic floor appointment. That is perfectly normal, and there's nothing to fear. In your initial consultation with our expert staff, we will examine and create a plan to strengthen and heal the pelvic floor muscles to reduce pelvic dysfunction.
Through an in-depth assessment of your breathing, posture, back flexibility, and abdominal and hip muscles, we'll uncover the source of your problem. Plus, this is an excellent chance for you to ask our physical therapist any unanswered questions that arise during this process.
Pelvic Floor Exercises for Physical Therapy for Women
Here are some simple exercises that help strengthen the pelvic floor:
Kegels

Squats

Bird Dogs

Bridges
Results should be visible after 4 to 6 weeks of these exercises. We suggest visiting our clinic, where our physical therapists have extensive experience and a long history of helping those with pelvic floor dysfunction.
Pelvic Floor Therapy for Men
Men also have pelvic floors. Though this may seem obvious to some, this muscle group is often neglected. Not only does the pelvic floor hold the bladder in place for men, but it also plays a role in controlling their penises.
Conditions
Aging can cause various pelvic floor issues. Most commonly, this occurs as people age and the muscles weaken, leading to incontinence or erectile dysfunction. Obesity also plays a role here due to extra weight on this muscle group; constipation may also be caused by tension.
As you can see, there are many causes of pelvic floor problems in men. We've covered some of the more common ones in the previous paragraph. Here are some medical conditions associated with issues with your pelvis floor:
Prostatitis

Levator Ani Syndrome

Pudendal Neuralgia

Chronic Pelvic Pain Syndrome
Signs and Symptoms
Sometimes people struggle to recognize an issue until it's addressed or inquired about. We have encountered this with many clients, so to assist in self-discovery, here are some common pelvic floor issues experienced by men.
Pelvic pain

Pelvic weakness

Feeling the urge to pee constantly

Pain while urinating

Urinary Incontinence

Bowel Incontinence

Erectile Dysfunction
Be aware of the warning signs, but never attempt to diagnose yourself. Our doctors specialize in evaluating and treating pelvic floor pain or weakness. Make an appointment with Moriarty Physical Therapy – call us today!
What Happens During Pelvic Floor PT for Men?
Physical therapy on the pelvic floor for males is similar to women's physical therapy. Our doctors near Durham, NC, conduct an assessment that asks you questions about any discomfort you may be feeling, then develop a personalized program of treatments tailored specifically to address those needs. Every patient has individual requirements, so every treatment plan is tailored to address your issues.
Pelvic Floor Exercises for Physical Therapy Men
We will help strengthen your pelvic floor through exercises and stretching. Our aim is to make you comfortable with both the pelvic muscles and the surrounding ones. Here are some exercises we suggest our male patients try:
Single knee fallouts

Double knee fallouts

Bridges

Kneeling hip drive

Low lunge
Contact Moriarty Physical Therapy in Durham, NC, for help strengthening your pelvic floor. We're excited to help heal your pelvic floor dysfunction!
Contact Moriarty Physical Therapy Today
It does not matter if you are a man or a woman, you are likely to benefit from pelvic floor physical therapy with Moriarty here near Durham, North Carolina. 
Contact us today to learn more about our physical therapy services and how we can help you. You are welcome to call or schedule directly online.
2310 Bale St., Suite 100
Raleigh, NC 27608
Get Directions
Phone: 919-364-4000
Fax: 919-746-9229
HOURS
Mon – Thurs 8:00 am – 7:30 pm
Fri 8:00 am – 5:30 pm
"*" indicates required fields